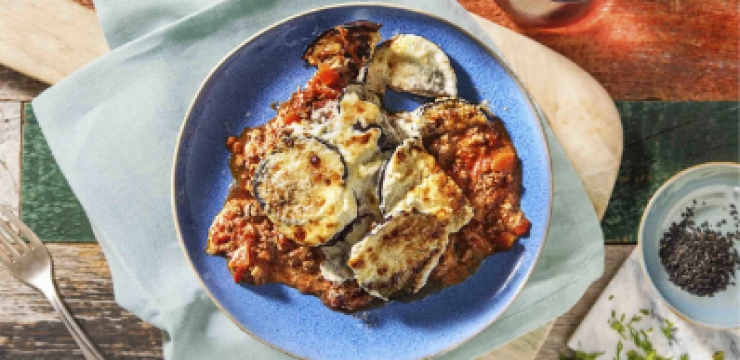 This is a perfect winter warmer and an absolute staple of Greek food. It's baked meat and eggplant casserole covered with a thick layer of béchamel sauce - So let's tuck in!
Ingredients
1 Carrot
1 Aubergine
200g Lamb Mince
150g Crème Fraîche
1 pack Grated Italian style Hard Cheese
1 pack finely chopped Tomatoes with Onion & Garlic
1 pot ground Cinnamon
1 sachet Chicken Stock Powder
Method
Trim the carrot, then quarter lengthways (no need to peel). Chop widthways into small pieces. Trim the aubergine then slice into rounds approximately 1cm thick.

Heat a drizzle of oil in a frying pan on medium heat. Add the carrot and cook until soft, 6 mins. Stir in the lamb mince and ground cinnamon. Cook for 5-6 mins, until the lamb has browned (drain away any excess fat) and add the chopped tomatoes, stock powder and season with a pinch of salt and pepper. Simmer until thick and tomatoey, 15-20 mins. Stir occasionally. Preheat your grill to high.

Meanwhile, arrange the aubergine slices in a single layer on a baking tray with a drizzle of oil and season with salt and pepper. Grill for 8-9 mins on each side. Remove from the grill and leave to the side (leave the grill on). Tip: The aubergine slices should be browned and soft. If they aren't, grill them for a little longer. If they are getting brown too quickly, turn the heat down a little.

When the lamb mixture is nice and thick, pour into an ovenproof dish. Lay the aubergine on top and spoon over the crème fraîche. Spread the crème fraîche with the back of a spoon and sprinkle over the hard Italian cheese.

Grill the moussaka until the top is bubbling and brown, about 3-4 mins.

Once brown, remove the moussaka from under the grill. Let it sit for a minute, then serve immediately and enjoy!
Brought to you by our partners HelloFresh.
You may also like