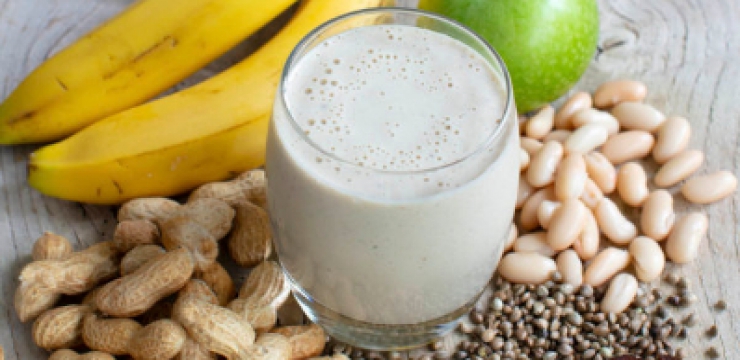 Power up for your workout with this super energising smoothie, that's packed full of plant-based protein including Tofu, Cannellini Beans, and Peanuts.
Ingredients
1/2 Organic Banana
Handful of Organic Cannellini Beans
1/4 Organic Apple
1 Organic Date
1/4 Block Organic Tofu
2 Tsp Organic Lucuma Powder
2 Tbsp Organic Hemp Seeds
Handful of Roasted Organic Peanuts
Add 270g of Liquid
Tastes Like?
Creamy texture with strong notes of roasted peanuts and a slight sweetness
Why Drink it?
Tofu is a nutrient dense, low calorie food made from soy beans which is high in protein, omega 3 fatty acids and it has lots of calcium.
Cannellini Beans are a good source of iron and folate (vitamin B9). It also contains a special enzyme inhibitor which helps support weight loss.
Peanuts are a good source of monounsaturated fats & protein, as well as B vitamins which help with energy production, nerve health and making red blood cells & vitamin E.
Contains Nuts and Soya
Method
Put all the ingredients in a high powered blender.

Blend for 1 - 2 minutes or until desired texture achieved.

Drink up!
Contains 241 kcal per smoothie
Brought to you by our partners The Honestly Good Smoothie Company.
You may also like