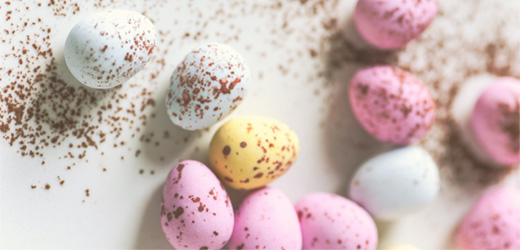 Spring is starting, the weather is getting warmer, the days are getting longer, and Easter is very close.
Easter as always should be filled with bunny's, mini eggs, chocolate and of course easter eggs. With everyone being stuck at home, people have become creative and experimental in so many ways, making new and exciting crazes that you must try yourself at home.
A new craze that has been going around is the Easter Egg Cheesecake, a delicious new fun idea for dessert or just a treat, here is a recipe for this no bake cheesecake, for you to enjoy!
Serves 4 – Prep time 10 mins – Cook time 10 mins – Chill 1 hour – Total time 1 hr 20 mins – 760 Calories.
Ingredients
• Easter Egg (Any you like halved – this makes one each)
• 60g digestive biscuits – crushed
• 45g unsalted butter – melted
• 250g mascarpone cheese
• 125g double cream
• 80g icing sugar sift
• 1 tsp vanilla extract
• 100g mini eggs
• Decorative food
TOP TIP: Make it your own! Decorate with your favorite flavours, biscuits, anything!
Method
Mix together the digestive biscuit crumbs and melted butter, tip onto a lined baking tray and chill for 15 minutes.
Meanwhile beat together the mascarpone, vanilla extract, and icing sugar until smooth. Pour in the double cream, mix until fully combined and set to one side. If the mixture is a little runny give it a little whip to firm up.
Remove the chilled biscuit from the fridge and crush into small crumbs. Add a heaped tablespoon to each Easter egg half.
Top with the cheesecake mixture and sprinkle half with the crushed mini eggs. Allow the Cheesecake filled Easter Eggs to set in the fridge for an hour, or overnight if making ahead. These are best served right away but can last up to 3 days.
Top with any toppings you would like for decorative aspect.
Have you made this delicious dessert?! Share it on social media and tag us on Instagram/ Twitter via @TaketimeUK
You may also like