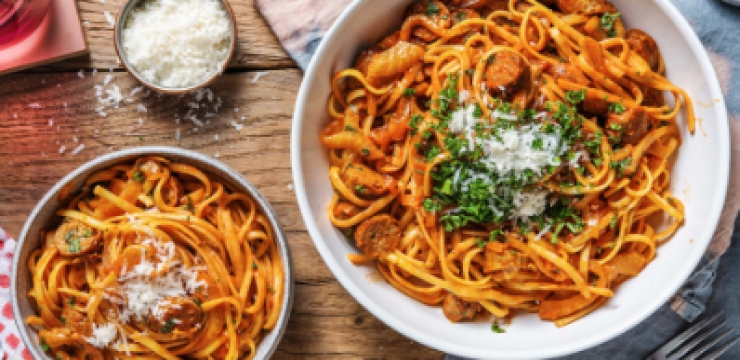 This warming and hearty Fennel & Sausage Pasta with Linguine are bursting full of flavours and make the perfect dinner night option
Ingredients
4 unites Tuscan Sausages
200g Linguine
1 Onion
1 Fennel
1 bunch Flat Leaf Parsley
2 sachet Tomato Puree
1 sachet Chicken Stock Powder
30g Unsalted Butter
1 bag Grated Italian Style Hard Cheese
200ml Water (for the sauce)
Method
Preheat your oven to 200°C and bring a large saucepan of water to the boil on medium-high heat with 0.5 tsp of salt. Pop the Tuscan sausages on a baking tray and bake on the top shelf of your oven until brown and cooked through, 20-25 mins, turning halfway through cooking. TIP: The sausages are cooked when no longer pink in the middle.

Meanwhile, add the linguine to the boiling water and simmer until the pasta is tender, 12 mins. When the pasta is cooked, ladle out some of the cooking water into a bowl and reserve (see ingredients for amount). This is for the sauce. Then drain the pasta in a colander, pop it back in the pan and drizzle with oil and mix through to stop it sticking together.

Meanwhile, halve, peel and chop the onion into small pieces. Halve the fennel through the root, remove the triangular root and then thinly slice (similar to if you were slicing an onion). Roughly chop the parsley (stalks and all).

Heat a drizzle of oil in a frying pan on medium high heat. Once hot, add the onion, stir and cook for 2 mins, then add the fennel and cook, stirring occasionally until it's beginning to soften, 5-6 mins. Add the tomato puree, stir and cook for 1 minute, then pour in the reserved pasta cooking water. Stir in the chicken stock powder, bring to a simmer, cover the pan with a lid or some kitchen foil.

Simmer the sauce until the fennel is really nicely softened, 5-7 mins. Meanwhile, once the sausages are cooked, remove them from the oven and chop up into rounds about 1cm thick with a knife and fork. Once the fennel is softened, remove the lid and stir in the butter, half the hard Italian cheese and half the parsley. Stir until the butter and cheese are melted, then stir in the sausages and remove from the heat.

Taste the sauce and add salt and pepper if you feel it needs it. Add the pasta to the sauce and toss together (or add the sauce and sausages to the pasta depending on what's easier). Serve in bowls with the remaining parsley and cheese sprinkled on top. Enjoy!
Brought to you by our partners Hello Fresh.