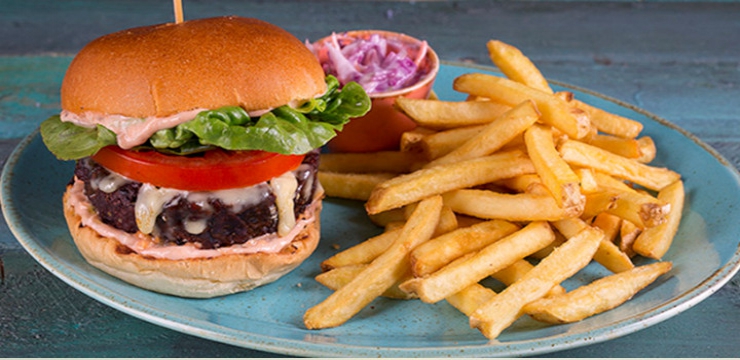 Make Las Iguanas' infamous Black Bean & Beetroot burger, a finalist in the National Burger Awards & perfect for any get together.
Ingredients
Make 6 x 150g Patties:
• 580g Black beans (cooked & drained)
• 1 heaped teaspoon Cumin seeds (dried, toasted & crushed)
• 35 Jalapenos (finely chopped)
• 12g Coriander (chopped)
• 115g Red onion (chopped)
• 4 1/2 tablespoons Cornflour
• 3/4 teaspoon Salt
• 1 heaped teaspoon cracked black pepper
• 125g Beetroot (grated)
Top with homemade burger mayo:
• 100g Mayonnaise
• 2 teaspoon Tomato puree
• 20g Tomato chutney
• 5g Gherkin (finely grated)
• Pinch of Salt
• Pinch of Pepper
To serve:
Brioche burger bun
Slice of vegetarian emmental cheese
Slice of beef tomato
Baby gem lettuce leaf
Method
1 . Crush the beans with your hands and fold everything thoroughly to create the Black Bean & Beetroot mix
2 . Mold the burgers into patties (around 150g each)
3 . Plunge the patties into hot oil and fry for approximately 4 minutes until crisped
4 . In the meantime toast the brioche bun on the grill
5 . Add burger mayo to the bottom of the bun, place the patty and lay over a slice of vegetarian emmental cheese. Add a slice of beef tomato and a baby gem lettuce leaf. Spread burger mayonnaise to the top bun and skewer the burger through everything.
Brought to you by our partner Las Iguanas.
You may also like