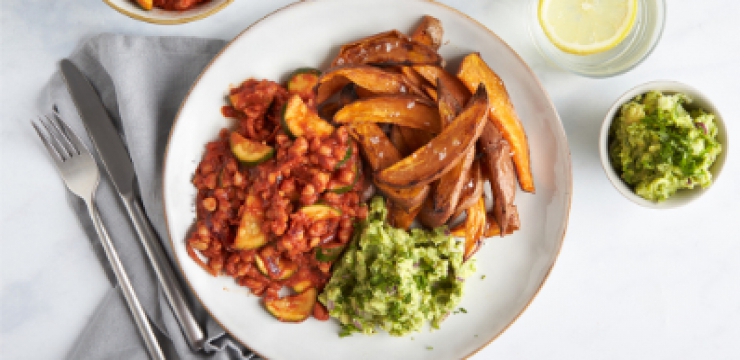 These indulgent barbecue beans are sweet and smoky, and taste even better once we add guacamole and sweet potato fries.
Ingredients
1/2 tsp red chilli flakes
150g courgette
1 avocado
1 lime
1 red onion
1 tbsp balsamic vinegar
1 tbsp oil
1 tsp smoked paprika
200g passata
240g haricot beans (drained)
2 garlic cloves
2 tsp maple syrup
300g sweet potato
Medium handful of fresh coriander
Method
Preheat the oven to 200C / gas mark 6.

Finely chop or crush the garlic. Finely slice 3/4 of the onion, dice the remaining 1/4 and set aside. Thinly slice the courgette into half moons. Peel and cut the sweet potatoes into wedges.

Place the sweet potato wedges in a bowl and toss with 1/2 tbsp oil and a pinch of sea salt, then place on a baking tray in the oven for 20-25 mins, turning halfway through.

Meanwhile, heat a large pan with 1/2 tbsp oil on a medium heat and add the garlic and sliced onion, cook for 3 mins. Then add the courgette, smoked paprika and chilli flakes and cook for 3 mins.

Drain the haricot beans and add to the vegetables, along with the passata, balsamic vinegar and maple syrup. Leave to simmer for 10 mins until the sauce has reduced.

Meanwhile to make the guacamole; roughly chop the coriander leaves and cut the lime in half. Peel and de-stone the avocado, add to a bowl and mash, then add a squeeze of lime juice, the diced red onion and the coriander (to taste) and combine. Season with sea salt and black pepper.

Serve the barbecue beans on two warm plates with the guacamole and sweet potato fries.
Brought to you by our partners Mindful Chef.
You may also like