In line with the government guidelines, most of the venues featured on this site have temporarily closed.
Any vouchers that are due to expire in March and April will be honoured once venues and attractions are permitted to open.
In the meantime, we would like our customers to take the opportunity to keep browsing and planning for when we are able to once again, Take Time for life.
In these uncertain times, our thoughts are with the people and the families that are affected.
Mamma Mia! the Musical
Enjoy fantastic deals, like savings of up to 50% on theatre tickets PLUS an extra 10% exclusive discount with Take Time.
Join the fun as the world's favourite feel-good musical, MAMMA MIA!, celebrates its twentieth anniversary in London's West End.
The sunny, funny tale of a mother, a daughter and three possible dads on a Greek island idyll, all unfolding to the magic of ABBA's timeless pop masterpieces, has now been seen live on stage by over 65 million people across the world.
There is 1 offer available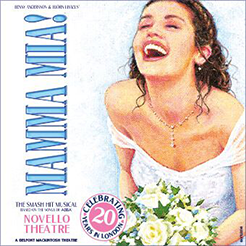 Enjoy tickets from £25 plus an extra 10% discount
You May Also Like