Life of Pi at Wyndham's Theatre
Enjoy fantastic deals, like savings of up to 50% on Life of Pi tickets PLUS an extra 10% exclusive discount with Take Time.
After a cargo ship sinks in the middle of the vast Pacific Ocean, there are five survivors stranded on a lifeboat a hyena, a zebra, an orangutan, a Royal Bengal tiger, and a sixteen year old boy named Pi.
Time is against them, nature is harsh, who will survive?
Long after the curtain falls, "Life of Pi will make you believe in the power of theatre" (The Times).
There is 1 offer available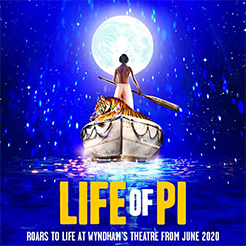 Get tickets from £31 PLUS an extra 10% discount
online offer
You May Also Like