Disney's The Lion King Musical
Enjoy fantastic deals, like savings of up to 50% on theatre tickets PLUS an extra 10% exclusive discount with Take Time.
Set against the majesty of the Serengeti Plains and to the evocative rhythms of Africa, Disney's multi award-winning musical will redefine your expectations of theatre.
Brilliantly reimagined by acclaimed director Julie Taymor, Disney's beloved film has been transformed into a spectacular theatrical experience that explodes with glorious colours, stunning effects and enchanting music.
At its heart is the powerful and moving story of Simba - the epic adventure of his journey from wide-eyed cub to his destined role as King of the Pridelands.
There is 1 offer available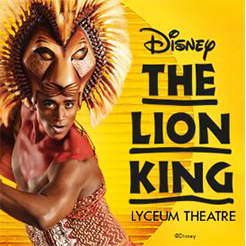 Get tickets from £42 plus an extra 10% discount
You May Also Like